Treehouse Builders Toolkit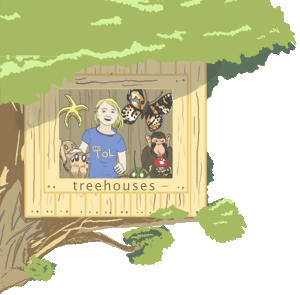 Everything You Need for Building Treehouses
The sections below contain links to pages that will help you construct your treehouse, from brainstorming and planning to composing text, adding media and publishing.
Treehouse Building Steps
Treehouse Building Steps

Receive guidance for completing each part of your treehouse, from planning to publishing.

Also see How to Begin Building Treehouses

Assistance with the process of building a treehouse, from registering and logging in to creating, editing, saving and publishing treehouses.
How Rylan Built his Treehouse Investigation
The Builders Planning Guide
Help and Guidance for Building Your Treehouse: From Brainstorming to Editing and Publishing
Treehouse Tools
Practice using the Treehouse Editor and download and view sample editing forms.

The ToL Easy Editor writes the HTML code needed to create web pages for you! You can use the Easy Editor to add colors, tables and other special formatting at the click of a button. You can also use the Easy Editor to edit the HTML code yourself.

If you use a word processing program (such as MS Word) or a web editor (such as Dreamweaver) there are some steps you will need to follow to transfer your text into the Easy Editor.
Adding Media
Adding Media

Information on how to obtain images, sounds and videos for your treehouse by creating your own media, finding media in the ToL database and finding media on the WWW.
Tech Tips and Guidelines
Please contact with any questions you may have.